I feel like my posts have been a little heavy lately.  And the news has been even heavier.  In fact, I just spent the better part of the last hour drafting a soap boxy sort of post about the recent shooting, and right before posting, thought better of it.  No one needs to hear my thoughts and opinions.  They'd only be adding to an already deafening arena of everyone else's opinions, and they certainly aren't going to help nor take away what happened this week.  (However, I'm super open to discussion if anyone is interested.  Please reach out, because I'd love to hear your thoughts. I'm just wary of injecting politics too heavily into my blog right now.)
I spent a lot of today feeling guilty.  Feeling guilty for being happy that the Friday I have waited months for (long weekend) is finally here.  Feeling guilty for anything remotely resembling positivity.  Feeling bad about being annoyed with people for posting a silly selfie on social media in the wake of such a devastating tragedy.  But also being annoyed and thinking, "can we please stop talking about this?" when I would come upon a post about the shooting.
So I'm going to try for a lighter note today.  With a shameless hair plug.  That I am not associated with, nor compensated by in any way.  I'm just a hair geek with some goods to share with anyone else battling with this dry winter air!
If you're cheap like me, you may often find yourself between a rock and a hard place when it comes to personal care.  More specifically with skin and hair care.  How cheap, you ask?  I'm literally too cheap to buy a cheap hair mask. 😂
(Okay. It is a total coincidence that the last five sentences sound like a Dr. Seuss book…)
But I don't know if that was because I was hesitant to spend the money itself, or more because I thought hair masks were gimmicky, and that they couldn't give me anything a good conditioner couldn't.
Well, as per usual, I was wrong.  The other day during my weekly trip out of the cave hotel for gas (the highlight of my week. Yep. This is where we're at) also landed me at Walmart on a hunt for a new dry shampoo.  Having nothing pressing to run back to, I took a few minutes to wander around the hair aisle.
I have never been a huge fan of Garnier, but they came out with this new line called Garnier Whole Blends that have completely changed my tune.  They have all kinds of random sh*t in them that make you think "ooh this must be good because it's weird" such as avocado and maple syrup and all those other random food items we'd never consider putting in our hair.  We use the "Honey Treasures" 🍯 scent.  I discovered it in my mother in-law's bathroom last April, and I have been obsessed with them ever since.
And before all the guys duck out of this post, my husband also loves this brand ever since it kept his scalp from feeling too dry this winter.
But anyway, in my hunt I stumbled upon these little sample sized hair masks for $1.50!  It's a single use trial size, but honestly, for a buck fifty, even I can't pass that up.  Especially when my curiosity has been runnething over about these apparent godsends that are hair masks.  And let me tell you, it did not disappoint!  I used it in the shower after shampooing, left it in for a bit, rinsed it out, skipped conditioner that day, and voila!  My hair was softer than it's ever been.  Like, softer than when my hair stylist gives me unsolicited treatments and then charges me for them. 😳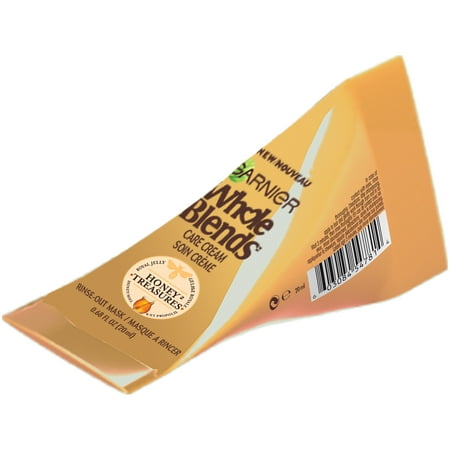 I wanted to wait until I was a couple shampoos deep before I came running to the internet to rave about these little babies, and I was pleasantly surprised after I washed my hair again two days later and my "for the love of God, please get a trim" locks were still feeling softer than ever!  So go!  If you're cheap and wanting to give hair masks a try, now is your moment for $1.50!  I'll definitely be grabbing another one next week, but I think I'll branch out from Honey Treasures and give the other kinds a try!
What kind of hair masks do you use?  Cheap?  Expensive?  How are the drugstore brands different from the big name brands?  Does it get even better than Garnier?  Tell me all of the things.  I'm a hair mask person now. 😂💆
Happy Friday, friends!  Go love your loved ones a little more than normal! 💖