Guys, I am a wedding EXPERT.
My credentials:
· I had a wedding.
· I stalk all my friends' and not-friends' weddings on Facebook.
So I'm basically a professional. 👰
LOL.  A professional in ignoring the "etiquette" you are supposed to follow when planning your wedding.
We got married in Connecticut, while living in Wisconsin.  So planning our wedding had its expected complications pretty much from the start.  It was pretty obvious early on that I wouldn't have the control most brides had over their big day.  Which was a good thing, for me, for a couple reasons.  First, I think I can be a little bit of a control freak.  So knowing from the get go that this wasn't going to be something I'd be able to run 100% myself my way was good for my future stress level — or lack thereof — on the actual day.
A lot of google searches and websites will give you the run-down of how your wedding day is "supposed to" go and what you're "supposed to" to and how you're "supposed to" plan.  But the truth is, however you end up planning your wedding to turn out the way that you want it, is actually what you're supposed to do.
But, of course, there are always those to point out little etiquettes that you're supposed to follow because back in the day that's how it was done.  So I'm here to tell you that I ignored almost all of these, and lived to tell the tale going on three years (and counting) later.  So I promise, it'll all be okay, no matter what you do, how you do it, and no matter how life-and-death people try to make the decision making seem… it's really not.  Or doesn't have to be!
The Wedding Party.
Asking your bridesmaids and groomsmen should be fun.  It doesn't need to be a huge production like you see on TV or on Pinterest– unless you want it to be.  If you are creative and have the budget, you should ask your guys and gals in exactly the way you always dreamed of with decorations and props and whatever else you may want!  I, however, am so not good at that kind of thing, so I just went to the Hallmark store, bought five cute cards that said "The Wedding Party…" on the outside, and "wouldn't be complete without you" on the inside… I think.  I can't even remember the exact wording.  But I mailed it to some, and hand delivered to others, and then basically ran away before they could open it in front of me, because I don't like to pressure people. 😂  Okay, so maybe don't be like me, but also don't feel like you need to go super over the top if that's not what you're into.  Being asked to be in someone's wedding is the honor and the special part, not the gifts they receive nor the way they are asked.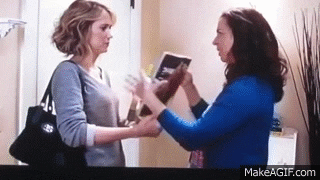 The Showers
I'm not a huge fan of attention on myself.  It's a wonder I had a wedding at all, haha.  But I knew even before we got engaged that I was not a shower person.  I like going to people's showers, but I knew I never wanted a bridal shower, nor in the future, a baby shower.  I just can't stomach the idea of sitting in front of people opening a bunch of gifts for hours.  It makes me anxious, and so living 1000 miles away was such a convenient excuse to avoid literally all of that.  We didn't have an engagement party, no showers,  and we didn't do the bachelor/bachelorette parties.  A few friends of mine got together for drinks two nights before the wedding, and then Anthony, his brother (and best man), my cousin (another groomsman) and I went to the casino, and it was perfect!  Just getting to do the things we didn't get to do anymore after moving.
The Registry
I'll just straight up tell you.  We didn't register.  Anywhere.  For a couple reasons.  The first being we had moved to our first home early in the year and had already bought all the stuff we had needed in the months leading up to the wedding.  The second reason was, well, if people were going to give us something, we definitely preferred cash because we were just starting out, and money is more useful than a set of wine glasses.  It felt weird straight up asking for cash, not to mention expecting people to show up to our wedding bearing gifts in the first place (I'm better at giving gifts than I am accepting them), so ultimately I just mentioned the hassle of the gifting situation being so far, and somehow that miraculously got us out of both the gift registry and the aforementioned showers.  If you don't have the convenient "we live too far away" option, I just recommend openly letting people know you chose not to register.  Most people don't show up to weddings empty-handed, and so if they don't know what to get, they will probably just write you a check anyway.  That's what Anthony & I gift at weddings regardless of whether or not the couple registered somewhere.  It's so quick and easy, and who doesn't want money??
Seriously, who?  I would like to knoow so that they can give all that money they don't want to me. 💁
Oh!  And Zola.com has this thing now where you can actually register for money.  So if you're cool with pointing people towards your cash registry, aka bank account, that is an easier way without necessarily feeling like you're Robin Hood asking for alms for the poor.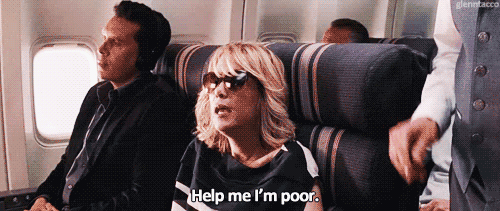 The Open Bar
Okay, I know this one is touchy.  We debated back and forth before ultimately deciding we weren't going to have an open bar.  We loosely had a budget that we were trying to stick to, and an open bar has the potential to get super pricey, super fast.  At least, that is the case in my family.  There is a healthy half of them who really know how to put it away.  Not to mention we had an entire table of people from one of my past jobs in a BAR so… 😂 We had instead opted for a three-course meal with wine served at the tables.  The wine was as bottomless like the Red Robin fries, so we did serve plenty of free alcohol, we just didn't have a free for all at the bar.  Only one person said anything about it, and he was someone I didn't even care to have there in the first place.  He also walked off with an entire unopened $30 plate of Italian cookies that we had had on each table to go with the coffee after the cake, if that says anything about the validity of his judgment.  We didn't even get a chance to have any of the cookies at our own wedding. 😂  So, this unsolicited opinion was certainly taken with a grain of salt.  I promise, our guests were treated quite well despite 1/125th of the guest list making a comment about it.  So don't be afraid to save some serious dough by not feeling obligated to feed your guests drinks all night long.  I know it's a scary thought, but it is possible to still have fun without being drunk. 😂  And in all seriousness, we were pretty sold on the idea that if people were only coming for an open bar, we didn't really want them there anyway. 🤷‍♀️
I know there was one more I'm forgetting, but that's alright.  This is getting a little long anyway.  Long story short, your wedding is your day, & no one else's.  Don't feel limited or obligated by what society or others tell you you should be doing or including.  At the end of the day, they aren't the ones paying for the wedding, and it's not their day.  Do what makes you happy.  And always remember that as long as you get married, no matter what does or doesn't happen, your wedding is perfect, and it's so not worth it to stress about the little details no one but you will remember anyway. 👰
∗ For a few more great tips and some feedback about The Knot (I made an account back in the day and then forgot 🤦‍♀️ #undomestic #blonde) from someone who is currently planning her wedding of the year, be sure to check out this post from my friend Laura! ∗